The annual Halloween movie marathon has a tried and true list of the usual suspects. If you're going anime, you can't go wrong with Hellsing, Highschool of the Dead, or Parasyte for an evening of blood-soaked entertainment.
If you want to change up your usual playlist, why not check out (or revisit) some of this year's offerings?
Yamishibai: Japanese Ghost Stories
(Source: Internet)
These limited animation shorts are done in the style of kamishibai, a traveling storytelling method that was popular during the Depression in the 1930s. The idea was that the storyteller would have a number of picture slides that he would narrate and perform the voices of the characters. Golden Bat was a popular character. Yamishibai takes this tradition to tell folklore and ghost stories. This season saw a return to form with some real creepers. Check out "The Wind's Warning," ""Sakura," "Mud Games," and "Tree of Innocence" for some good scares.
Angels of Death
(Source: Internet)
Angels of Death is horror absurdity at its finest. Take one highly intelligent nihilist, along with a serial killer and watch them attempt to escape from a multi-level dungeon filled with other serial killers. Angels of Death is a test in absurdity, but if you can suspend your disbelief, it's a lot of fun getting to know the story's villains. A doctor obsessed with eyeballs? Angels of Death has all that and more.
Magical Girl Site
(Source: Internet)
Magical Girl Site is definitely in it for the shock value and likes to see how far it can push that envelope. The result is the sort of popcorn munching B-movie that's both vile and silly. Each new horrible scenario attempts to trump the last until the heroes and villains all sort of blend together.
DEVILMAN crybaby
(Source: Internet)
Masaaki Yuasa takes Go Nagai's classic about a Devil fighting for humanity and updates it with his own artistic sensibilities. The core plot is the same but the conclusion is reached in a different way, as tweaks to Akira and Ryo's personalities give the pair a different dynamic than the original. Consider it horror you can chew on.
Attack on Titan
(Source: Internet)
Eren and company are back to face off against more terrifying giant cannibals. When the forlorn Eren is kidnapped, we finally find out what all that people eating was all about with the added bonus of a crazy drunk assassin.
GeGeGe no Kitarō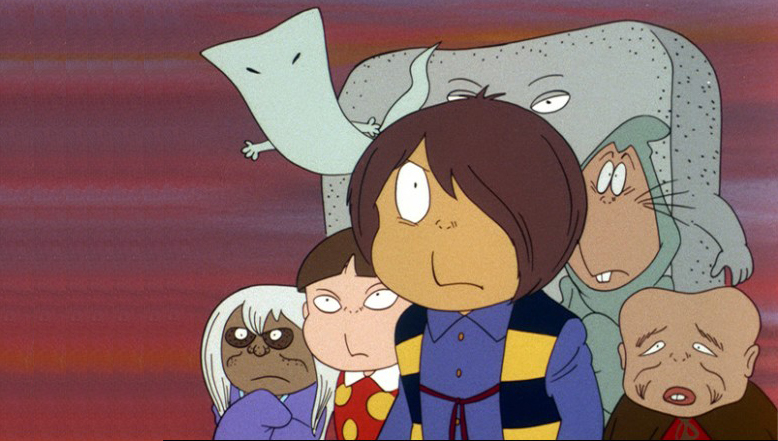 (Source: Internet)
The characters got a few change ups, namely Neko Musume's design, but the world of yokai is diverse as ever. Kitarō's audience skews younger and many of the episodes could be compared as "dark fables". Kitarō and the yokai also deliver a nasty style of vengeance to Black Company that includes a train straight to Hell.