Sony's Venom movie is making serious bank at the box office, and is now on track to surpass Justice League and Logan financially. While the success of Venom doesn't necessarily ensure that the studio's planned cinematic universe of Spider-Man side characters will end up working out, Man of Steel kicked off the divisive DCEU with a huge $668 million worldwide haul - it's certainly an encouraging sign that films starring such supporting Marvel characters can indeed work.
(Source: Internet)

Like many of the films in the DCEU though, Venom wasn't bolstered to its financial success by critical praise. In fact, most critics ravaged Venom, offering up zero love for arguably Spider-Man's nemesis. Of course, Venom's connection to Spider-Man wouldn't be apparent to anyone without prior knowledge of the two characters' backstories.
Spidey's connection to Venom's origin story was completely excised, although Fleischer still believes that an encounter between Eddie Brock and Peter Parker will happen eventually.
(Source: Internet)

Currently, Sony's Venom movie sits on a pile of $377.4 million worldwide, making it the 16th highest-grossing movie of 2018 so far. CBM suggests that Venom is destined for heights much greater than it's already reached.
The site says that Venom is likely to surpass $550 million worldwide, especially after the film opens in China on November 9. Passing $600 million is also reportedly an attainable goal as well, leading the film to eventually pass both Logan's $619 million worldwide haul, and Justice League's $657 million worldwide total.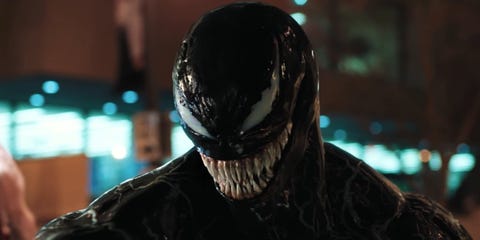 (Source: Internet)

Venom's production budget was only around $100 million, much smaller than the budget of any of the five Spider-Man films produced by Sony. By contrast, Warner Bros. never released official budget figures for Justice League, but some reports have estimated massive numbers, even around $300 million. Plus, Venom will have accomplished its final earnings without the help of a marquee superhero like Batman, Superman, Spider-Man, or even Wolverine in the film.
Logan was rated-R, something Venom's producers refused to do. Logan also cost even less than Venom to make. To be fair though, recent hits like IT and Deadpool prove that there's no real ceiling on how much money an R-rated film can make, provided its studio is willing to take a leap of faith.